Your employees never have to spend valuable time opening mail again
In today's fast-paced, mobile world, the volume of mail still continues to grow exponentially
Our Mailroom Automation Services were designed to alleviate the burden and costs associated with tedious mail processing. Using document scanning and capture technologies, we automate the process of receiving, sorting and distributing all of your incoming mail through our automated workflow solution. Documents are automatically routed to specific users or groups, modernizing the way you do business.
Our Mailroom Automation Process >>
We make it easy for you to automate your mailroom. It's a whole new, cost-effective, organized and efficient world!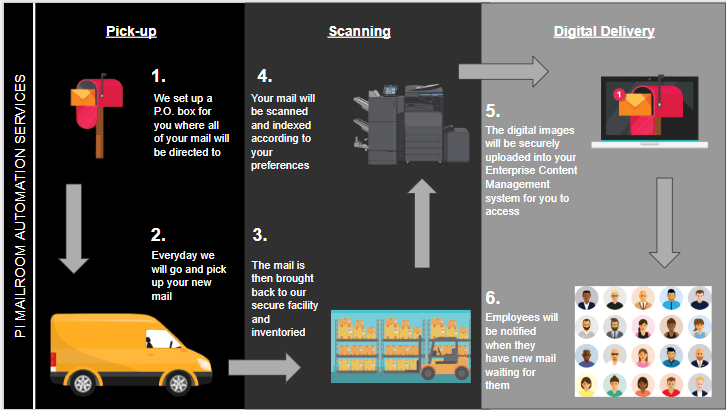 Digital Mailroom Automation Services
Benefits of a Digital Mailroom:
Reduces the decision cycle by immediately notifying the designated person that there is a document that needs their attention
Facilitates the coordination of multiple staff activities surrounding the same document
Improves customer and vendor relations through quick response times
Eliminates paper-handling costs and wasted time
Ensures data tracking through audit trails
Increases compliance and security
Reduces the time between receiving and distributing documents
Reduces the occurrence of lost or misplaced mail
Saves businesses money through reduced paper needs and mailroom staff
Leverage early payment discounts and avoid late payment fees
Fill out the form below to learn more about how our mailroom automation services can help make your mailroom more efficient and save you money!
If you are an Accounts Payable Manager, chances are you are under pressure to improve efficiencies while cutting costs. While being able to do more with less may sound impossible - it isn't. Leveraging technology can significantly reduce many of the tedious manual...
read more