Are you buried under a mountain of paper?
Paper documents are inefficient, expensive to maintain and pose security risks. You know your organization needs to digitize its documents but standing in front of boxes of files, where do you even begin? Polar Imaging can help. Visit our scanning service page to learn how our process works and how you can get started with a no-obligation trial today.
Is finding the right document a search and rescue mission?
Manually searching for missing documents costs time and ultimately money! If you have both paper and digital documents, spread across multiple locations, missing documents may never be found. Polar Imaging can design a customized document management system that saves your employees from wasting time searching for the right document and ensures your organization never loses another one.
Is your workflow NOT really flowing at all?
Are your employees spending too much time on tedious and repetitive tasks? That's bad for company morale and worse for operational expenses. Polar Imaging's automation solutions can help your business process flow smoothly, cutting down on wasted time and lost profits. Let us help you get your workflow moving quickly and efficiently so you can get back to business.
We help corporations save time, money & resources while increasing efficiency and productivity
As a business operating in today's economy, we know how important it is to keep costs down and increase production. That's what all companies have in common, all across the globe. This is why we strive every day to help organizations, large and small, meet their business goals and succeed.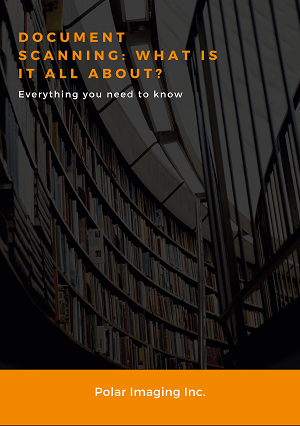 Everything you need to know!
Download our free eBook "Document Scanning: What's it all about?" and learn everything there is to know about document scanning. Don't be left behind, download the eBook now!
The staff at Polar Imaging are amazing. Client service is the top priority for The Co-operators, and all our questions, requests and concerns are dealt with immediately in a friendly, professional manner. Polar Imaging has enabled us to save time and money in providing quality service to our clients. Having our documents available online allows us to meet our clients' needs immediately.
The Co-Operators Insurance
When we made the decision to move forward with imaging I was somewhat skeptical; however, everyone we have dealt with at Polar Imaging has been fabulous. A great amount of time was spent with us initially to get us up and running and we've been able to incorporate document imaging into our workday to make for a more efficient process.
Selectpath Benefits & Financial
The support and advise that I got from Polar Imaging was truly excellent. Their patience and expertise were invaluable. I have to say that the set up they recommended was exactly suited to our needs. And all of the expected benefits in reduced cost, greater reliability and efficiency have all been realized. Thanks again Polar Imaging. I would definitely use and recommend Polar Imaging for another project.
The system is extremely easy-to-use and the process is efficient. We consider the services provided by Polar Imaging excellent and we would recommend them to any clinical setting looking to integrate a paperless system into their practice.
New Vision Family Health Team
Polar Imaging has been a valuable partner for our imaging needs for many years. We started with microfilming documents for retention purposes and moved with Polar Imaging to imaging solutions, then to document management for active records. We have grown our use of their document management software for easy access to current and archived information. The company and staff have always been available to help, advise, and support us as we moved into new uses of their software and equipment.
Pathways Health Centre for Children
Our experience with our products is great….never a problem to get assistance; records are easy to find, and easy to forward to others. Your staff all deserve to be acknowledged as the Best…they do a great job!
Having old charts scanned as opposed to stored is such a quick and efficient way to access patient information. It expedites completion of insurance forms and legal documents.We are able to provide quality healthcare to our patients by having their complete medical record computerized.