What is PI Healthcare?
PI Healthcare is an award winning solution that takes care of all digitization needs in the healthcare industry! We've helped many hospitals start their digital transitions by implementing scanning stations, providing adequate scanners and capture software, implementing document management systems, and doing the most difficult work of it all, scanning backlogs of paper records. We've tailored our scanning process easy to implement and adopt in day to day health records departments. Users have an easy time learning the process and come to enjoy it quickly after implementation. The day-forward scanning package is comprised of the following items:
To find out how the PI Healthcare package can benefit your organization, click the button below!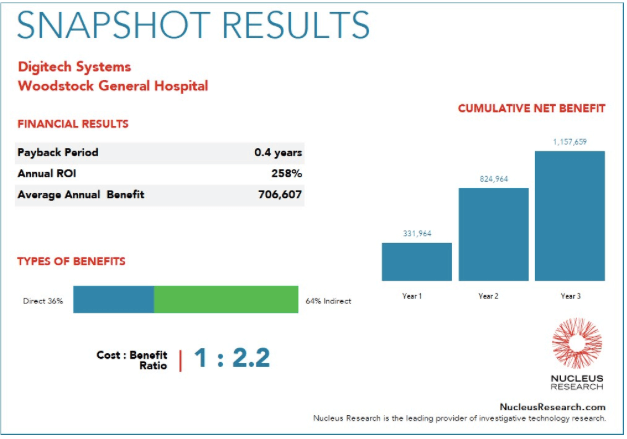 To read the full press release about the Nucleus Research award for Woodstock General Hospital, click here
ROI Benefits
Over the past few Years, Woodstock hospital has been in the process of digitizing their files and have been actively trying to eliminate paper from their hospital while automating manual processes. Nucleus Research recently selected Woodstock Hospital to do a deep dive into their finances to see what sort of impact digitization had on Woodstock hospital. The results are fascinating, and it led Woodstock Hospital to be one of only 10 recipients for the ROI award from Nucleus, chosen from hundreds of companies both public and private in North America.
The biggest take away is a return on investment of 258% and a payback period of only 3 months. Given the amount of time and money invested into this project, the results are huge and impressive. Not only has the hospital recuperated their investment, they are saving a significant amount of money going forward. Aside from the financial side of things, digitizing and centralizing their files has contributed to making the hospital significantly more efficient, it has helped staff have quicker access to medical records and it has assisted in decreasing wait times for patients.
This report carries a lot of significance because it looks into the public sector. Woodstock hospital implemented a solution that resulted in taxpayers money being saved while offering those same taxpayers a better level of service. Private companies often look for ways to cut back and save money, but the public sector is sometimes given a hard time about their spending. This report shows that taxpayers' money is put to good use and that this hospital in particular put everyone's best interests forward.
ClinicalConnect Integration
We have an integration with ClinicalConnect that connects our Document Management System (PaperVision) with their HealthCare Module. This Integration allows ClinicalConnect users to view scanned records that both Woodstock General Hospital and St. Thomas Elgin General Hospital manage electronically in Polar Imaging's document management platform. We are planning on adding more hospitals to this list with time. One of the major benefits of this integration is that records that used to only be available locally, are now available to any hospital that is connected through ClinicalConnect in Ontario. These hospitals scan records in real time and so patient information is available almost instantly. It helps eliminate the need for paper files, helps save time when looking for patient files, saves storage space, keeps track of files and prevents them from being lost and helps patience have their data at any hospital they go to.
We are very proud to help and support this initiative that helps connect hospitals throughout Southwestern Ontario. Hospitals have so many records that are very important and could be of great use for doctors to see, however they are very limited in access due to their paper nature. Digitizing these documents will allow for better access to patient information from any hospital or clinic and will lead to better overall healthcare for the patient. For example, if a London resident ends up in the Woodstock hospital ER, that visit will now be viewable to their family doctor in London through ClinicalConnect.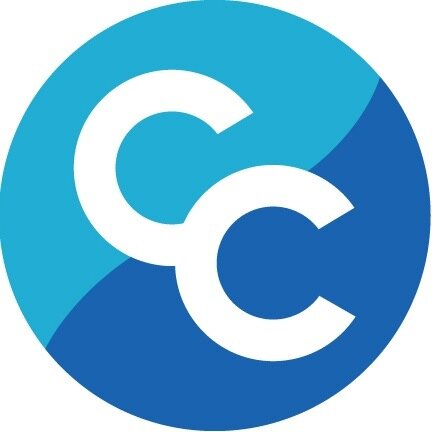 Digitech Systems
Digitech Systems is our supplier for some of our software that we have available. The solutions that we offer from Digitech are very in-depth with lots of features. Knowing them in and out enables us to make sure each of our clients get the most out of it and that all of their needs are taken care of. This knowledge and expertise along with our company values have led us to a great overall customer satisfaction.
Being selected into the Circle of Excellence is a great sign of recognition from Digitech in regards to all of our efforts. This award helps validate that we are a top tier service provider to all of our clients as well as our partners. We are very proud of where we are today of the effort that our team puts in on a daily basis. Going forward, we are confident that we will continue to be a part of the Circle of Excellence since we strive to continuously improve our services and maintain a high level of customer satisfaction.
About Digitech Systems
Digitech Systems, LLC enables businesses of any size to more effectively and securely manage, retrieve and store corporate information of any kind using either PaperVision Enterprise content management (ECM) software or the world's most trusted cloud-based ECM service, ImageSilo. By significantly reducing the cost, Digitech Systems has moved ECM from a luxury convenience to an essential element for every well-managed business.
Digitech Systems continues to raise the standard of excellence in the ECM sector, as evidenced by the numerous awards they have received including multiple Nucleus Research ROI Awards, the Top RPA solution from CIO magazine, and Hot Customer Experience recognition from Document. In addition, Buyer's Lab has given the entire product suite their highest Platinum ratings and repeatedly chosen PaperVision Capture as the best data capture and workflow solution and PaperVision® Enterprise as the most outstanding ECM software in the marketplace. To learn more about the company's software and services that deliver any document, anywhere, anytime, visit www.digitechsystems.com and follow us on LinkedIn @DigitechSystems or Twitter @ECMNOW to stay up-to-date on the latest.