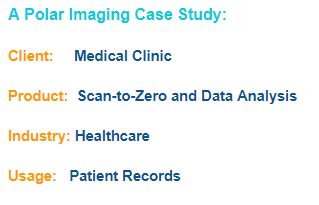 Background
The building where the clinic moved had limited storage. The temporary storage room contained all the clinic's records. The clinic was now faced with finding a new storage solution for all their documents. The Komer Clinics considered digitizing their files instead of storing them since many of the charts needed to be kept for ongoing consultation. However, some charts were rarely accessed while others were approaching the end of their retention period and could soon be destroyed.
Situation
In total, the Komer Clinics had 27, 4-drawer filing cabinets within scope of this project. They did not access them frequently, but they needed to have access to them for compliance reasons. Many of the files were approaching the end of their mandated retention time. Since the volume was so high, it was hard to justify the cost for a one-time project for files that were soon to meet retention.
Proof of Concept
Before starting the project, the client wanted to see the quality of our work and what sort of final product could be expected. The Komer Clinics decided to opt for our "proof of concept" option where for a flat fee we took a full banker box of documents and ran it through our whole process. This allowed us to show the Komer Clinics what the final product looked like and what sort of work he can expect from us. We were also able to tweak indexing until he was 100% happy with the outcome. This allowed us to gauge the scope of the entire project and put together a customized plan and a proposal. Once the administrative team at the Komer Clinics saw the outcome and the proposal, they were very satisfied and excited to get started with the whole project.
We had considered a number of companies to digitize our patient files. Through our conversations and then the Proof of Concept, we recognized that Polar Imaging understood our needs and exceeded expectations. Being able to complete a proof of concept was extremely helpful in the early stages of our decision process. Our clinic was able to see the results of the scanning and experience the service before moving forward with the project. This provided a level of comfort in knowing we were making the right decision. Doing the proof of concept allowed us to see how Polar Imaging would handle the project and we were very happy to see their attention to detail at every step.
Solution
Instead of scanning all the files, the client used a combination of our Data Analysis service and our Scan-To-Zero service.
The first step was to pick up all of the filing cabinets and bring them to our secure scanning facility where the files were indexed and stored for the duration of the project. 
The next step was to go through the files and organize them based on their retention schedule. Any files that were within a few years (time period determined by the clinic) of their maximum retention period were put aside for storage. The files were indexed and catalogued so the clinic would know which files were in which box in case they needed quick access. The remaining files were sent off to be digitized.
We worked out a monthly budget that worked for our client that allowed them to scan on a weekly basis for 12 months and be invoiced on a monthly basis.
After we scanned the files, we destroyed them as agreed upon with our client. This eliminated additional storage needs both for the clinic and for us.
We came to Polar Imaging with a problem to solve. We came out with a custom solution tailored to what we needed. Their level of expertise and their quality of service was very impressive from the very beginning. One of the qualities we valued was their consistently excellent communication. When we had questions, they were there with the answers. They made a major challenge into a happy memory. The clinics could turn our attention to caring for our patients instead of struggling with our physical files.
Benefits
Since the clinic decided to use our Data Analysis service, they received a couple of benefits. The first benefit was the amount of time they saved by not having to go through each individual file and sort out which ones were close to their retention period. The second benefit was the amount of money that the clinic saved by not scanning files that they only needed for a few more months. Additionally, some money was saved by destroying files that had already met their retention period and which didn't need to be stored either.
Our Data Analysis service allows clients to have their physical files sorted and organized based on their specific retention rules. Clients indicated as an example, that any file within 2 years of retention be put aside and flagged for short term storage, while the remaining files are designated for digitization. This allows clients to scan only the files that really need to be digitized.
By taking advantage of our Scan-To-Zero service, our client was able to get all of their remaining files scanned, on a budget that worked for them. This meant that they did not have to worry about moving and storing any of these files in a new location since we went and picked up their files and stored them while we scanned them.
Our Scan-To-Zero service allows our clients to work out a monthly budget that they are comfortable with, instead of having a one-time upfront cost. It's like financing, but without interest!
Find out how this could work for you!
Every organization is unique it's in own way and therefore therefore we custom tailor solutions for everyone! If you're interested in learning how a solution such as this one could be implemented into your organization, contact us for a free no-obligation consultation! We'd love to chat with you and find out about your needs.
Simply interested in learning more? Click one of the buttons below to get more information about the specific services used in this particular case!
About Polar Imaging
We provide organizations with only the best document management solutions, scanning, equipment, and professional services in the industry. We do this to help strengthen our communities and our economy.
Our aim is to educate businesses on document management and imaging and to show them how to reach their overall business goals using innovative business technologies.
Having the ability to customize our solutions tailored to your specific requirements is something we feel is unique to us. Our solutions are adaptable and address the needs of not just one department, but virtually any department you need a solution for!
Contact Us
4500 Blakie Rd. Suite 134
London ON N6L 1G5
Toll Free: 888-857-6527
Email: info@polarimaging.ca