Fujitsu presents: AP Automation with Polar Imaging
The Webinar
For anyone who missed the webinar but was interested in the content, here it is! The main focus of this webinar was to highlight the partnership between Fujitsu and Polar Imaging, along with the power of Fujitsu scanners in Polar Imaging AP Automation Solution. While this solution works with any Fujitsu scanner, we focused on 4 specific ones which we think are the best suited for Automation solution. Our AP Automation solution is highly customizable to any organizations needs. We can accommodate from small to enterprise sized companies. To see a demonstration of the software, watch the video to right!
AP Automation
Our AP Automation module is a way to handle your accounts payable documents electronically. Our solution uses artificial intelligence to automate tasks that are currently being done manually. This helps make your department more efficient by eliminating paper, repetitive tasks and reducing errors.
We can automate the routing of invoices, the coding of invoices and the approval. Our software can match against purchase orders, as well as shipping documents. Employees can be as involved in the process as you'd like them to be or the system can offer automation for every step. 
Our system can be customized to your specific business environment. No two systems will be the same since every business is so unique. At Polar Imaging we offer demos following your routing rules and processes in order to ensure you get an authentic idea of what our system feels like.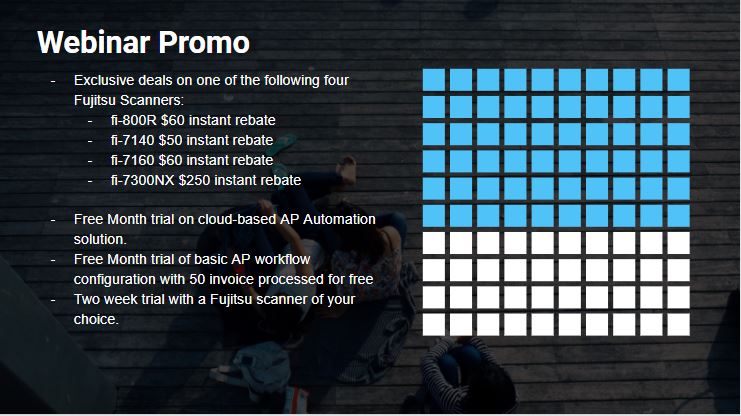 To take advantage of this great promo, simply fill out the form on this page and talk to one of our representatives. We also offer free no obligation consultations to anyone interested in learning how this system could help their organization!
Complete the form below to get in touch!
About Polar Imaging
We provide organizations with only the best document management solutions, scanning, equipment, and professional services in the industry. We do this to help strengthen our communities and our economy.
Our aim is to educate businesses on document management and imaging and to show them how to reach their overall business goals using innovative business technologies.
Having the ability to customize our solutions tailored to your specific requirements is something we feel is unique to us. Our solutions are adaptable and address the needs of not just one department, but virtually any department you need a solution for!
Contact Us
4500 Blakie Rd. Suite 134
London ON N6L 1G5
Toll Free: 888-857-6527
Email: info@polarimaging.ca