Choose from a wide selection of high-end Fujitsu document scanners
Our line-up of Fujitsu Document Scanners
Fujitsu Workgroup Scanners
Fujitsu Departmental Scanners
Fujitsu Production Scanners
FUJITSU N7100 Networked Scanner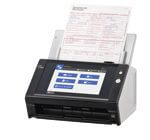 A highly secure network scanner with a touch panel that assists with improving business processes.
Output Resolution: Up to 600 dpi
Speed: 25 ppm (simplex) / 50 ipm (duplex) in Color, Grayscale and Monochrome @ 200, 300 dpi;
Paper Size: Min ADF: 50.8 mm x 50.8 mm or 2" x 2" – Max ADF: Legal (8.5" x 14.17")
ADF Capacity: Up to 50 sheets
Interface: One network connection RJ45 10 BASE-T, 100 BASE-TX, 1000 BASE-T
Click here to download the pdf brochure.
SaveSave
The average cost to process one manual invoice is $15 - Aberdeen Group Nearly 62% of invoice processing costs are made up of staff labour - APQC The cost to locate a lost document can reach $120, and the cost to replace it, as much as $220 - AIIM 80% of inbound...
read more