Create a Digital Office Space
Digitizing your files and focusing on creating a paper-free office is something that has many great benefits and is becoming more and more popular for all sorts of different companies around the world. Now more than ever, there are services available to take care of any issue that might prohibit you and your team from working remotely. This blog will go over services that can offer an all around digital solution for you and your team.
Mailroom Automation 
Mailroom automation means all of your mail is captured digitally and is emailed to the appropriate person who it was intended for. This means that mail is never lost, always sent to the correct employee within the organization, it is trackable and there will always be an electronic copy available for you! It saves time, money and it makes life less stressful!
Document Scanning
The first step in going paperless is converting all of your documents to digital format. Converting to digital files has many benefits including, saving you time when looking for a file, saving you tons of office space, protecting your files from being lost, and saving you money in the end. Document scanning is a process that seems easy in theory but has a lot of involving and time consuming steps. From our years of experience, we have made it easy and accessible for any sized business to digitize their files. We found the best way for businesses to handle a conversion project is by outsourcing their backlog of files and then getting set up with the proper software and equipment to handle small amounts of new files on a go-forward basis. When outsourcing your backlog of paper files, you get the benefit of freeing up all of your storage space instantly, you don't have to worry about finding the time to scan all of the documents, and you receive an indexing and filing system that works best for you. Once all of this is done, your organization can get set up to handle newly created paper files using a scanning routine designed for you.
Document Management
Once all new documents are digitized and there is a process in place to ensure all files are continuously scanned, the next step is to manage those files efficiently. The best way to do so, is with a document management system. These systems offer a lot of flexibility, convenience and security. They can be hosted on your servers giving you full access and control, or they can be hosted on a cloud based system where everything is being taken care of and maintained for you. Having a document management system allows you and your team to access files from anywhere at any time. It safeguards against misplacing or losing important business documents. Theft, fire, flood or other natural disasters can destroy a business that relies on paper-based processes. No more paper also means no more filing cabinets and the like, taking up precious, and much needed, office space. Whether you want to host the solution yourself or go with a cloud based option, our document management system is affordable and customizable to any business environment. 
AP Automation
AP Automation is a great service to help bring your accounting department into your digital office and ease the storage of all documents in one convenient location. AP Automation has many great customization options to allow any business rules to take advantage of this service. The simple way to describe this service is through the following process: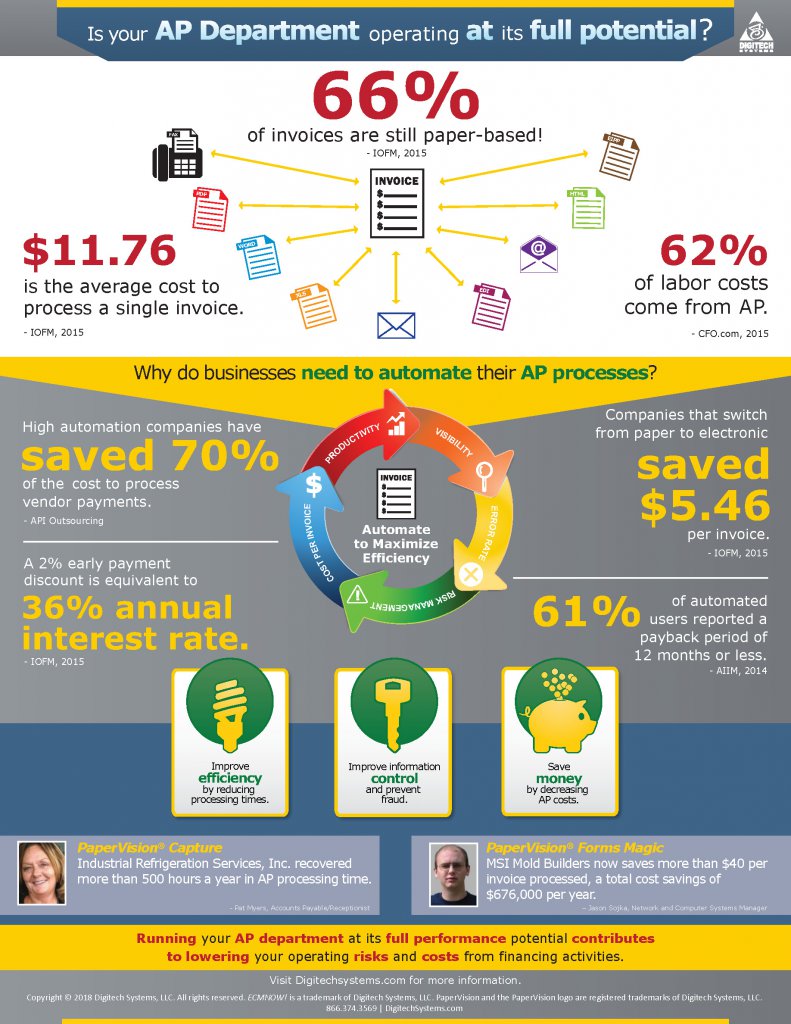 Invoices can be received either in paper form and scanned to be digitized, or via email

Once all the invoices are digital, forms processing software is used to grab any indexes needed

Based on all of the extracted data, the invoice is routed according to your business rules to the next appropriate step. 

This is where most businesses differ, some businesses have the whole process automated, others like to include more sets of eyes in the process. Either option can be accommodated for.

Once invoices are matched, coded and validated, whether automatically or manually, the data is sent into your accounting application, and the invoice is stored in your document management system. 

To see how this whole system works

,

click to watch this video!
Other than scanning paper invoices into the system, there is no paper involved in the AP Automation process! This helps your department save time, money and be more efficient. Your employees can focus on the more important tasks, while the tedious and repetitive tasks are done automatically. Invoices will never be lost or misplaced again. Once they are approved and filed for storage, they won't take up any physical space either! The infographic above gives a better insight into some more benefits of AP Automation.
Workflow 
The Final piece of the puzzle is the workflow system. Although it is used to route invoices, it can do so much more. Any type of document that would follow any sort of rule can be automatically routed to the appropriate employee, department or office. No matter what your business structure is, the highlight of digitization is the room to customize it all to your personal situation. 
We wanted to use this blog to highlight the possibility of creating a completely digital way of dealing with your documents in your office. Any of these services are available on their own and anyone of them is a great way to ease into a paperless office. This is a broad overview of everything so if you'd like to learn more, we have many resources available on our website. Additionally, we are happy to help with consultations for anyone interested in learning more. 
Working remotely due to the COVID-19 pandemic
We've received many questions from various types of businesses with regards to what they can do to stay in business without working in the office. We thought highlighting these steps could help guide some people as to what is available to them. Since we want to do our share in helping the community, we are offering free consultations to anyone who has anyone who has any questions or simply wants to learn more about what they can do or how they can better utilize any tools they already have available.
We are working on offering some scaled back versions of our services in order to help businesses who need to go digital, be able to get started at a lower price point. These services will still offer the same core function, but will have less customization and additional options.  
Additionally, we are offering our document management system, free of charge charge for 60 days with no obligation, in order to help any organization who might benefit from having a digital filing cabinet for their employees. If you're interested in implementing this for your team, reach out to us and we will help you get started.