The Electronic Records as Documentary Evidence standard is a guideline for how companies should manage their electronic documents. Complying with these guidelines ensures that a company's electronic records are trustworthy. This blog post will be addressing Polar Imaging's involvement with electronic records, should you choose to outsource your document scanning to Polar Imaging. A link to the full standard will be provided at the bottom of this blog.
This standard states that companies must have written documentation of their whole process around storing and managing electronic documents, as well as the process of regular documents being scanned and converted to electronic files. Therefore companies who choose to do their scanning in-house, must outline and document their whole scanning procedure. If you outsource any of your scanning to Polar Imaging, we provide a service agreement in the beginning of the project that outlines our whole scanning process in great detail in a manner that follows the guidelines of Electronic Records as Documentary Evidence standard. Our service agreement can be used to assist in your compliance as it outlines our document scanning process. (You still need your own RM manual that outlines your whole document management process, we only provide the documentation for the portion that we are involved in)
When outsourcing to a third party scanning company, confidentiality and privacy protection agreements are required. We sign both of those agreements at the beginning of the project, not only to adhere to these guidelines but also to protect the confidentiality and privacy of your documents. When we complete a scanning project, we include a certification of assurance of scanned records which details that we scanned these certain documents for you and that they all went through our outlined scanning and quality control processes.
If you use a workflow solution, that needs to be documented as well. When choosing our workflow service, we provide a diagram of the whole workflow that adheres to the electronic records as documentary evidence guidelines.
To comply with this standard, audits are mandatory to have when it comes to managing the electronic records. Our electronic content management system provides full audit capabilities. This also applies to the workflow component and reports can very easily be generated from it.  
When choosing Polar Imaging, we ensure that we fully comply with this standard and we provide you with all the documentation required for the portion regarding outsourcing your document scanning.
Electronic records as documentary evidence standard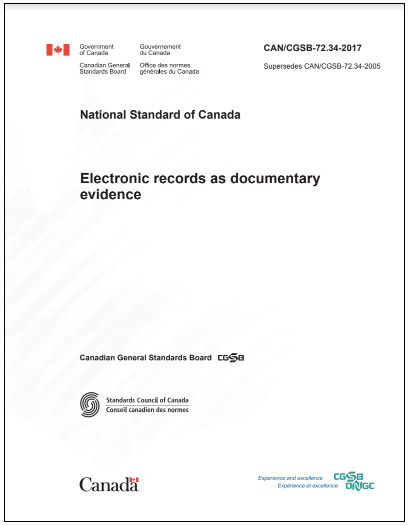 *Disclaimer: this blog post is about the 2017 revision of the standard (CAN/CBSG-72.34-2017)