Every business has a certain time of the year when they are busier than others. Whether you're waiting for financial statements or invoices, order forms or even legal documents, a lot of mail circulates whether it is due to you seasonality, or the holidays, or whatever your case may be. When tasks are performed manually, an increase in activity usually correlates with an increase in stress which leads to a decrease in efficiency. The last thing you need is to be less efficient when you have the most things to do.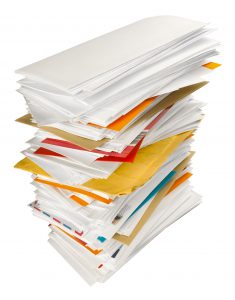 Well what if I told you, that with mailroom automation, you can not only be a lot more efficient but you can also save a lot of money! If you are a mailroom manager, you know the frustration of of getting loads and loads of mail and having to sort through it all and distribute it properly. Sometimes you might just feel like dumping it all into a pile and not worrying about it. With mailroom automation you never have to experience that feeling ever again. All you have to do is monitor the mail as it is being routed automatically to people in your organization.
Mailroom automation means all of your mail is captured digitally and is emailed to the appropriate person who it was intended for. This means that mail is never lost, always sent to the correct employee within the organization, it is trackable and there will always be an electronic copy available for you! It saves time, money and it makes life less stressful!
Let's look at the Liberty University in Virginia for example. Before automating their mailroom, at the start of each semester, sorting mail generated 126 hours of overtime staff. Once they automated their mailroom process, they were able to save $120,000 ANNUALLY. Now that is a significant figure. All that money was lost due to inefficiencies. Imagine what you could do with an extra $120,000.
Mail is something that every company deals with. Thankfully our solutions are custom tailored for everyone regardless of your business type or size. If you would like to learn more head on over to our Mailroom page or contact us to find out how you can be more efficient today!