Intro
We are extremely proud and excited to announce that our client Woodstock General Hospital, has been chosen by Nucleus Research as a recipient of their ROI award! 
Woodstock General Hospital worked hard over the past few years to enter the digital world by eliminating paper, automating manual processes and making day-to-day operations more efficient. Nucleus Research recently selected Woodstock Hospital to do a deep dive into their finances to see what sort of impact digitization had on Woodstock General Hospital. Their financial results are astonishing and so, a huge shoutout is well deserved by their CFO, Kathy Lavelle, who has worked close with us to bring her vision of this to life.
The Results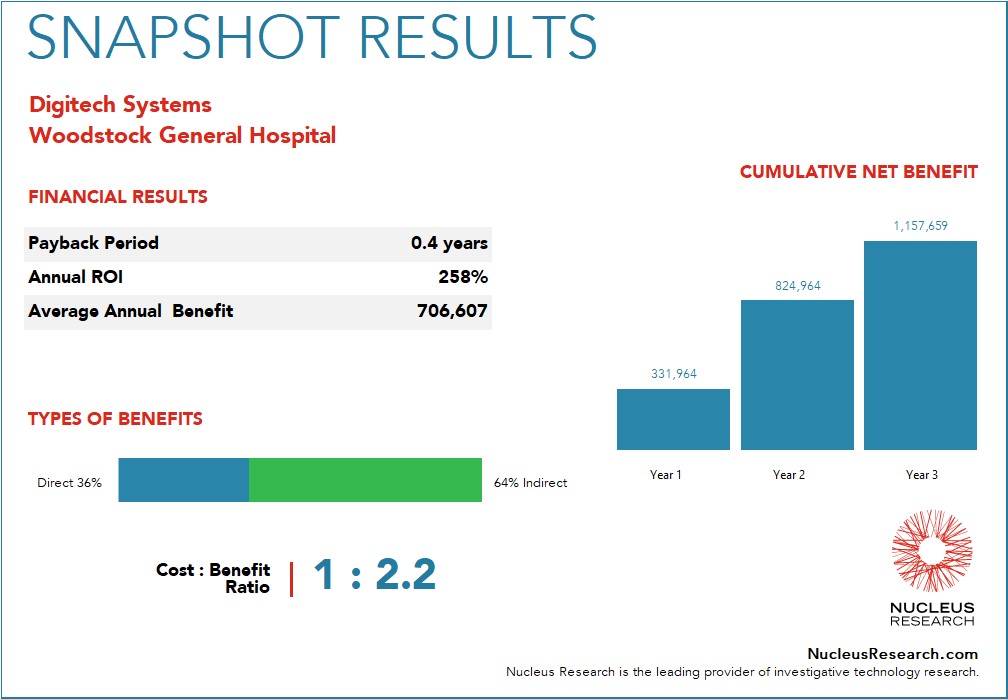 The report goes into detail on a number of different financial metrics, but the biggest take away is a return on investment of 258% and a payback period of only 3 months. Given the amount of timeand money invested into this project, the results are huge and impressive. Not only has the hospital recuperated their investment, but they are saving a significant amount of taxpayer dollars going forward. Aside from the financial side of things, digitizing and centralizing their files has contributed to making the hospital significantly more efficient, it has helped staff have quicker access to medical records and it has assisted in decreasing wait times for patients. Furthermore, the hospital has invested in a ClinicalConnection Integration that will allow hospitals all across Southwestern Ontario to access patient files from Woodstock General Hospital.
"Woodstock Hospital has always been a forward-thinking hospital when it comes to managing their medical records. This award couldn't go to a more deserving project. It all started with a simple concept of making records securely available instantly to anyone who required access. As simple as the plan was in theory, there were many moving parts that needed to be accounted for before executing the project plan. This is the perfect example of investing in great technology that almost immediately paid for itself. Our team is humbled to have been a part of this project. Congratulations to the team at Woodstock hospital for winning this ROI award! " – Steve Todd, Director of Business Development
Why does this matter?
This award carries a lot of significance because it looks into the public sector. Woodstock General Hospital implemented a solution that resulted in taxpayers money being saved while offering those same taxpayers a better level of service. Private companies often look for ways to cut back and save money, but the public sector is sometimes given a hard time about their spending. This report shows that taxpayers' money is put to good use and that this hospital in particular, put everyone's best interests forward. On top of that, a public sector company beat out hundreds of private sector companies by getting better returns on their investments and winning Nucleus Researches' award!
Who is Nucleus Research?
Nucleus Research is a company that does fact-based industry analysis. They focus on ROI and measurable results to provide their research. They are the only technology research firm to be registered with the National Association of State Boards of Accountancy, which ensures the credibility of all of their research. Perfecting their ROI research since 2001, they now offer multiple ROI tools to companies to help them with their decision making process at each different step. Their research process is extremely thorough and in depth.
To learn more about Nucleus Research visit:  https://nucleusresearch.com/
How this was Achieved
We (Polar Imaging Inc.) are an Ontario-based information management company who worked closely with Woodstock General Hospital, implementing one of our Enterprise Content Management solutions from our partner, Digitech Systems. Working alongside (the hospital's current, CFO), Kathy Lavelle, we helped bring her vision to life. In 2013 Kathy approached us for a comprehensive document scanning solution and since then the relationship and project  has been growing. Once Kathy saw the quality of our service, we started having discussions about the overall vision for the hospital and how we can use our expertise to make that vision a reality. The results spoke for themselves. 
To learn more read our case study or email us at info@polarimaging.ca 
To see how the hospital achieved these results and all of the other financial analytics, Click here to see the full report.